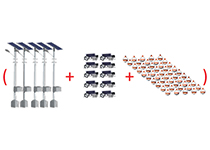 September 2018
PhoScope is launching Light Drive, a global initiative to develop open-source socio-photocentric tools for the rapid deployment of lighting solutions that will help scale up social engagement in lighting design and serve the educational and recreational lighting needs of communities and individuals worldwide.
These tools include the creation of guidelines and specifications for off-grid turnkey lighting kits and a Volunteer Training Program.
PhoScope's first Light Drive program, Recreo de Noche,  is a serial model for the rapid implementation of solar-powered playgrounds in Puerto Rico. PhoScope partnered with Lighting in Action (LIA) and Concepteurs Lumière Sans Frontières (LSF) to launch a pilot project in San Juan in the fall of 2018.
Teams of PhoScopers and volunteers are developing two more programs: Informal Urban Lighting which is based on the solar lighting project developed for LSF and Fokal in Haiti, and Refugee Transitional Lighting. Both programs will be launched with pilot projects.