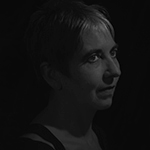 Nathalie Rozot, President, CEO
Board of Directors
Nathalie Rozot is a phototect and a phototectural critic and the founder of PhoScope. She focused her professional and academic practices in phototecture in 2000, after working for over ten years in product, exhibition, architecture, landscape and urban design, and was a director for l'Observatoire International before specializing in innovative and alternative lighting solutions and starting her own design and research practice in 2006.
Rozot is the recipient of grants from the City of Paris and the New York State Council for the Arts and fellowships from the New York Foundation for the Arts (NYFA), the MacDowell Colony and the Graham Foundation for Architecture; awards from the Illuminating Engineering Society (IESNA, IESNYC) and Women in Lighting (WIL); fiscal sponsorship from NYFA and the Van Alen Institute; and her photal designs were finalists on prestigious international competitions.
Formerly a teaching professor and senior thesis faculty in Parsons' Masters program in Lighting Design and senior guest lecturer in landscape architecture Masters programs in Versailles and Lille, she regularly serves as an academic and professional lecturer and juror. She has contributed to the IES's publication LD+A as education columnist, and published and lectured internationally on social and critical issues in lighting.
Rozot holds a DEUG in Biology and a Diploma and a BTS from Ecole Nationale Supérieure d'Arts Appliqués Boulle. She is a IES member and an educator member of the IALD, and a proud member of the WIL community.